John Coach Cycling Academy
 (Unit of John Coach Eainco Group,Registered with Government ministry. )

Cycling coaching is one of the specialized service provide by  John Coach Cycling Academy which was set up in 2017 to provide a source of Guidance and information for seniors and juniors, on all aspects of mechanical, human-powered, land transport. Our aim is not to tell people what to do, rather to give them knowledge and skills that will help them to establish a style of riding that best suits their purpose and ambition.
There is no magic formula for effective cycle-travel but John Coach Cycling Academy can give guidance and information on all kinds of riding, and other complementary skills, to help seniors and juniors discover and enjoy the luxury of cycle-travel/sport.We have all levels of training from the Grass root level.
We also support (finance excluded) organizers, schools, colleges with guidance and contacts to help them run their events. If you are interested in running Cycling Event, please contact John Coach mob: 0940040946
 

We offer the following 
Training's
Cycle Training for beginners Level-1

Skill development (Cycling)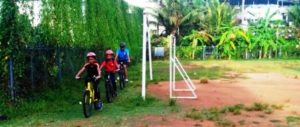 Endurance Training (Cycling), which is good for Skating and other sports.
Special Packages for Schools and Colleges
These include skills sessions, leisure rides and competitive events.
Road Racing / Track Racing   / Mountain Bike / Hill Climb trails / BMX / 

Cycling Contact Coaching

Cycle Marshals:

For volunteering in charity and events  for a cause.

Cycling Tribe:

For sharing Cycling information in and around Kochi.